GKF – GROOVED FLEXIBLE COUPLING – TDS_EN.pdf
Description
 Flexible couplings are designed to allow axial displacement, rotation and some angular movement. The coupling can accommodate angular misalignments up to a few degrees. It can also accommodate parallel misalignment and/or thermal deformation when using two couplings with an intermediate pipe. 
Sizes
DN25 – DN300
Operating pressure
300 PSI/2068 kPa/20,7 barg
Material Specification
Housing: ductile iron conform to ASTM A536 GR 65-45-12 
Coating: Hot dip galvanized or Red paint coating RAL 3000, EPD Epoxy coating 
Bolts and nuts: medium carbon steel, zinc electroplated, quenched and tempered 
Rubber gasket: EPDM gaskets are in accordance with the international certifications and have undergone the aging test at 110C/230°F for a period of 45 days/1080 hours and the frozen test at -40°C/-40°F for a period of 4 days/96 hours.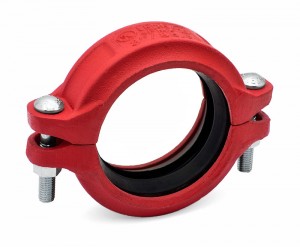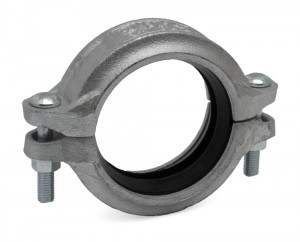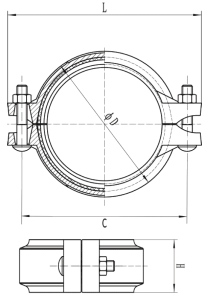 Dimensions:
| | | | | | | | | |
| --- | --- | --- | --- | --- | --- | --- | --- | --- |
| DN | Vd (mm) | D (mm) | L (mm) | H (mm) | C (mm) | Bolt | Torque (NM) | Weight (kg) |
| 25 | 33,7 | 55 | 97 | 45 | 73 | M10x40 | 60-70 | 0,42 |
| 32 | 42,4 | 63,5 | 107,5 | 45 | 84 | M10x50 | 60-70 | 0,48 |
| 40 | 48,3 | 69 | 114,0 | 45,00 | 90 | M10x50 | 60-70 | 0,53 |
| 50 | 60,3 | 83,6 | 124,0 | 46,00 | 102 | M10x60 | 60-70 | 0,68 |
| 65 | 76,1 | 98 | 139,0 | 46,00 | 115 | M10x60 | 60-70 | 0,80 |
| 80 | 88,9 | 114 | 156,0 | 46,00 | 132 | M10x60 | 60-70 | 0,95 |
| 100 | 114,3 | 142 | 189,0 | 50,00 | 162 | M12x70 | 90-100 | 1,44 |
| 125 | 139,7 | 170 | 222,0 | 50,00 | 192 | M12x70 | 90-100 | 1,91 |
| 150 | 168,3 | 198 | 251,0 | 50,00 | 222 | M12x70 | 90-100 | 2,10 |
| 200 | 219,1 | 260 | 322,0 | 58,00 | 282 | M16x85 | 200-230 | 3,77 |
| 250 | 273 | 319 | 393,0 | 64,00 | 352 | M20x110 | 270-300 | 6,54 |
| 300 | 323,9 | 374 | 453,0 | 65,00 | 410 | M20x130 | 270-300 | 8,55 |